"See if they will not create a new Armenia"

-The Armenian and the Armenian by William Saroyan
Amidst the ongoing chaos in Artsakh, love thrives and finds a way. This was true for the beautiful and resilient wedding story of Hovik Hovsepyan and Mariam Sargsyan this past weekend.
On Saturday October 24th the two high school sweethearts had plans to wed at the Ghazanchetsots Cathedral, a long standing church since 1888 in the city of Shushi located in Artsakh. However, neither bride or groom was prepared for what the future held. On September 27th Artsakh found itself under attack by the Azerbaijan military and innocent civilians were forced to either flee the area or fight back. Of those fortunate enough to leave the area, Mariam and her family fled to Yerevan when the bombings began.
However, like many of his Armenian brothers, Hovik stayed to serve at the front lines defending Artsakh from Azerbaijani attacks. This ongoing war on Armenians started one month ago and still today soldiers like Hovik are relentlessly defending their people.
Amidst the ongoing war, the Ghazanchetsots Cathedral was bombed by Azerbaijan on October 8th. This church withstood not one but two bombings and remained upright despite the damage done. Much like the strong foundation of the church, Hovik and Mariam would find a way to defy the odds.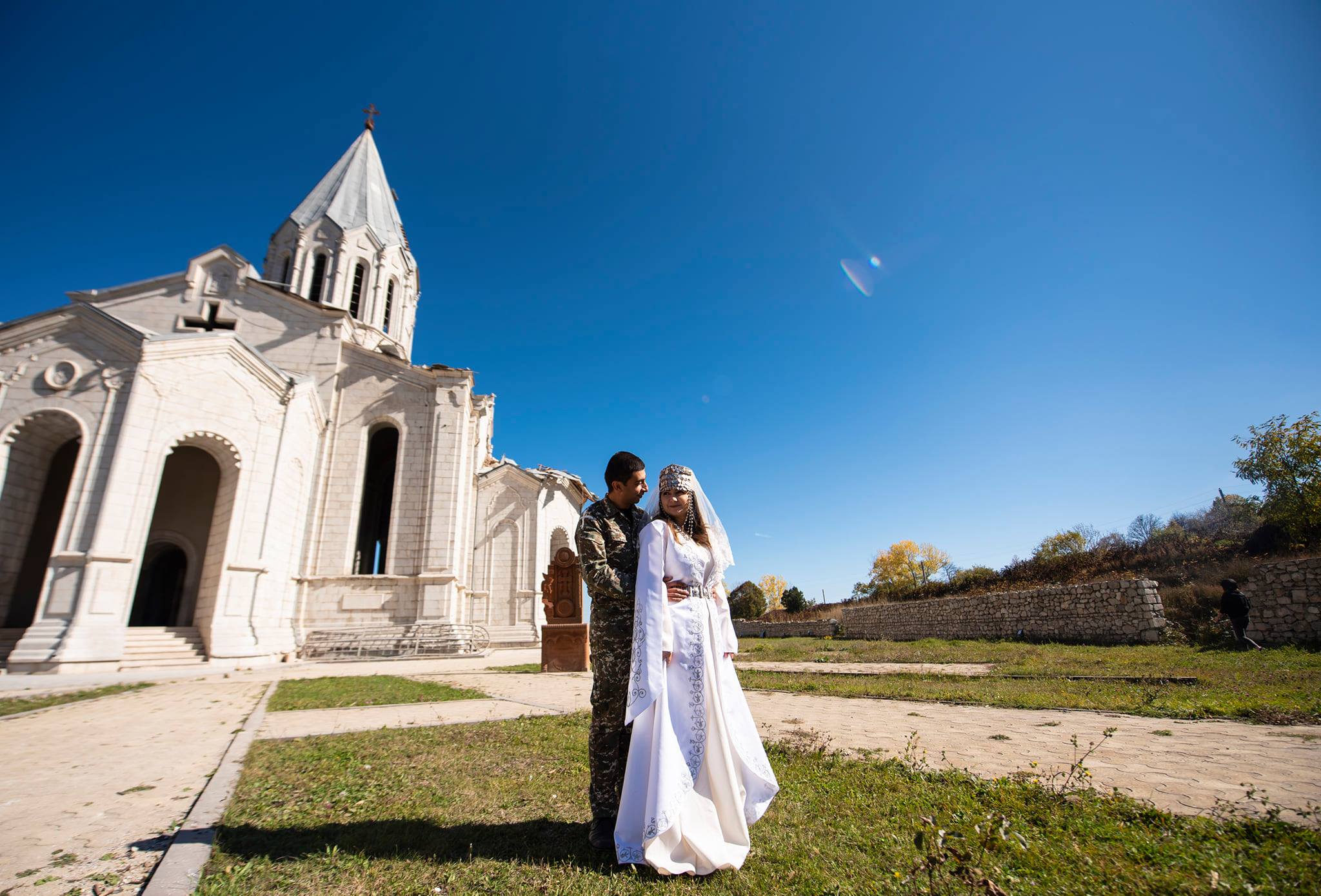 In the Armenian pursuit for peace, Hovik lost friends at the battlefront but he refused to allow this to tarnish his wedding day ceremony. Deep rooted in Armenian culture is the sentiment Hovik held dear to his heart, an Armenian soldier should replace his fallen comrades with children of his own. Wanting to keep his people and culture alive having witnessed so many fellow innocent Armenian lives lost, he felt it better to be wed than to delay the marriage.
Although Mariam had fled to safety, she too was determined to be anointed with Hovik. And for the well-being of their family and friends they chose to wed in private, with only the priest, best man and maid of honor in attendance. However, news spread fast of the beautiful nature of Armenian resilience, and the story of the brave soldier who left the battlefield to marry his bride in a bombed-out church caused 60 members of the press from nine countries to show up on the big day.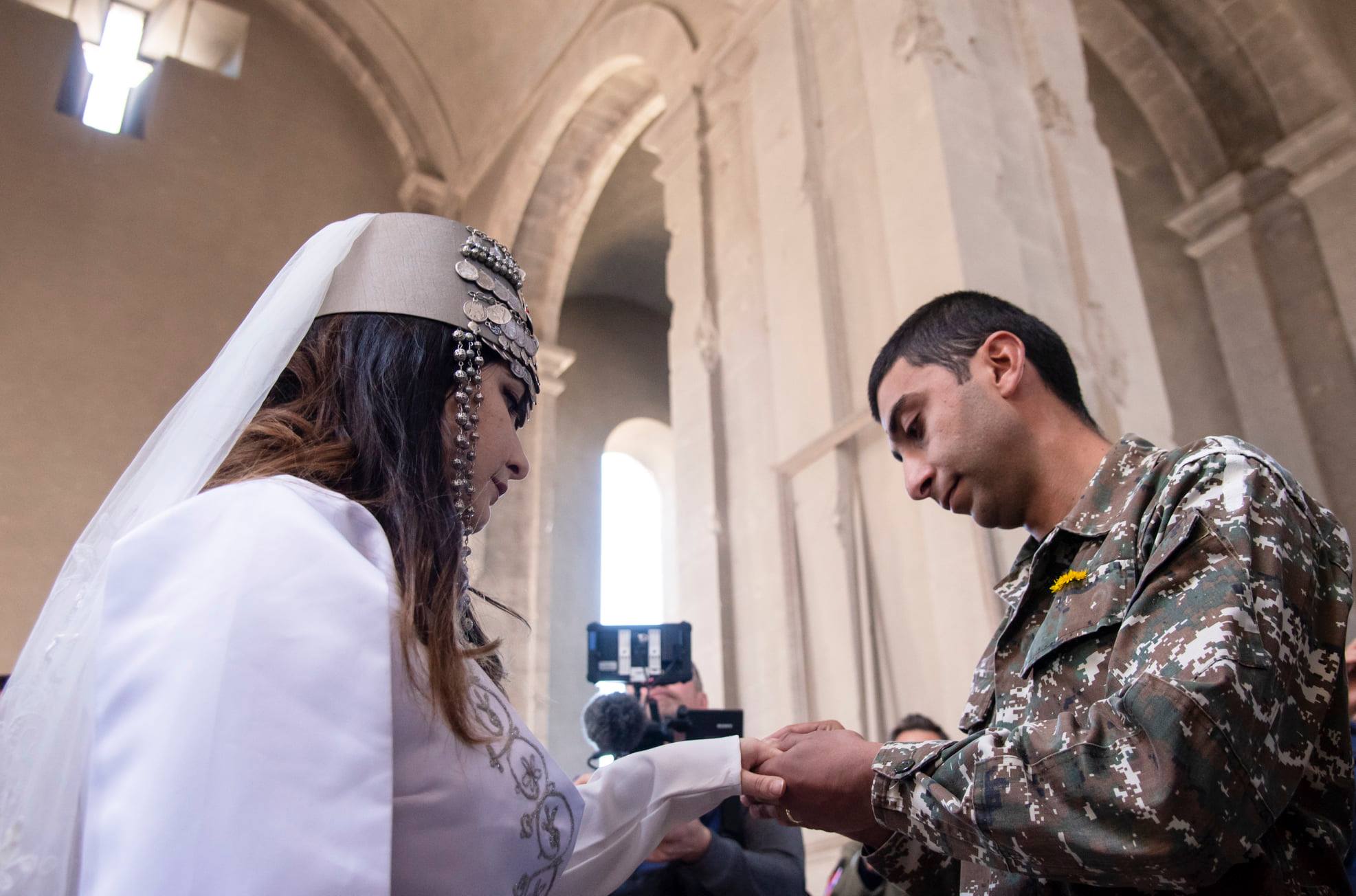 In the written work, "The Armenian and the Armenian" by William Saroyan, a Fresno native who was born of immigrant Armenian parents, the final passage praises the Armenians' ability to survive as a nation. Emphasizing that through every battle fought and lost over the years, through genocide and war Armenians have managed to always come back.
"Go ahead, destroy this race. Let us say that it is again 1915. There is war in the world. Destroy Armenia. See if you can do it. Send them from their homes into the desert. Let them have neither bread nor water. Burn their houses and their churches. See if they will not live again. See if they will not laugh again. See if the race will not live again when two of them meet in a beer parlor, twenty years after, and laugh, and speak in their tongue. Go ahead, see if you can do anything about it. See if you can stop them from mocking the big ideas of the world, you sons of bitches, a couple of Armenians talking in the world, go ahead and try to destroy them."

- The Armenian and the Armenian by William Saroyan
This valiant strength and resilience is what keeps Armenians like Hovik and Mariam with good faith that through any circumstance Armenians will continue onward in their fight for peace. And above all else, love will always prevail against the darkness of hate.