Valentine's Day is the one day a year we celebrate all forms of love. Whether it be a significant other, family, or friends, we all find ways to show our love, care, and appreciation for each other. The typical symbols of love we find ourselves surrounded with this time of year are hearts, teddy bears, chocolates, and roses. But other symbols of love last longer than just the month of February. One in particular, is expected to last you the rest of your life. Of course, this symbol of love is your engagement ring.
Over the last 40 years of jewelry making, Albert has designed an unbelievable amount of engagement rings. But each ring comes with it's own story. Sometimes these stories are brought to life through the design of the ring. When getting creative, the possibilities are endless as to what personal design elements can be added to a ring to make it completely special and unique to you.
In honor of Valentine's Day, we've compiled a list of four rings Albert designed with special sentimental value by customizing them to the couple they belonged to.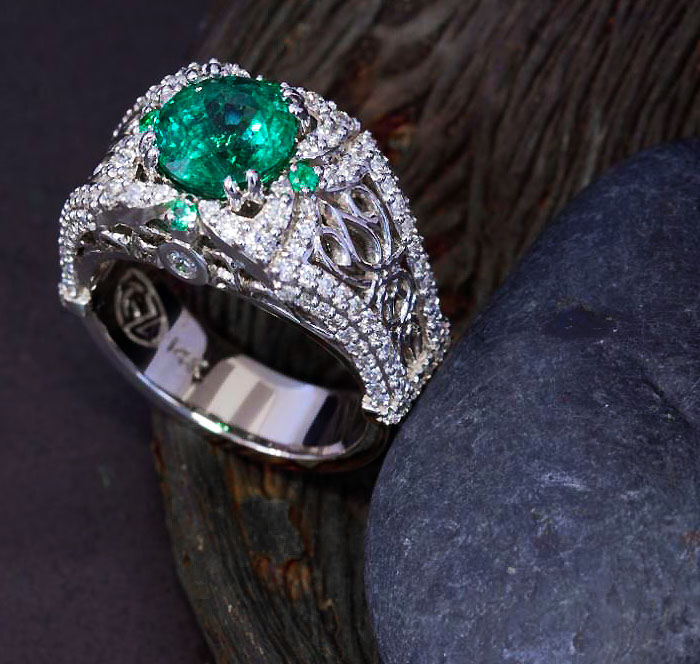 The Emerald
Right at first glance, it's apparent this ring is special. The precious Columbian emerald stone sitting in place of the typical diamond in this engagement ring is absolutely breathtaking. We're all so used to seeing diamonds as the gemstone expected to be in an engagement ring. But for this couple, the emerald green was a no brainer. They shared green as their favorite color and found the stone to be romantic and captivating. What's more, they had their initials inscribed into the band of the ring in the groom's handwriting (featured photo above). All of the custom effort and detail put into this one ring came out to such a beautiful masterpiece!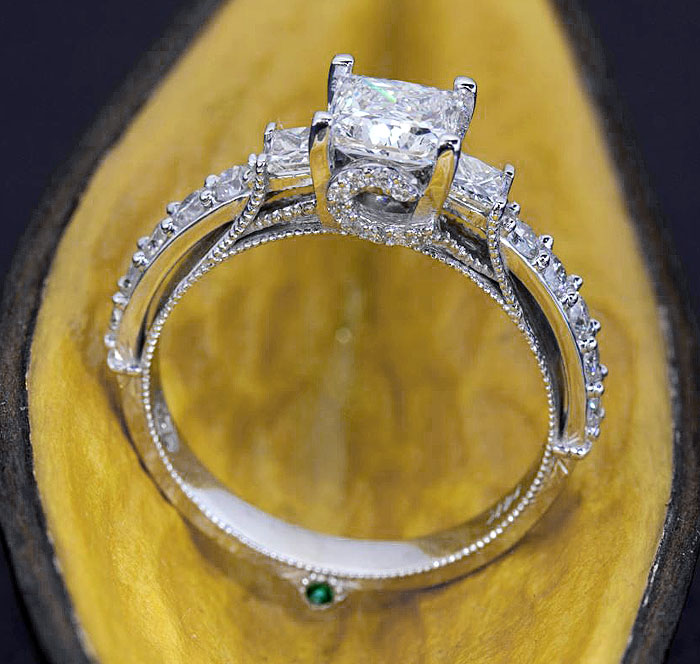 Diamond Initials
Inscribing handwritten notes, initials and dates have become more and more popular with engagement rings overtime. However, this couple chose to take this idea and go outside of the box. Instead of having their engagement ring inscribed with initials in the band, they had each of their initials designed into either side of the band and set with diamonds. Notice the "C" underneath the center stone. This unique addition made this ring personal to the couple and visible to others as well.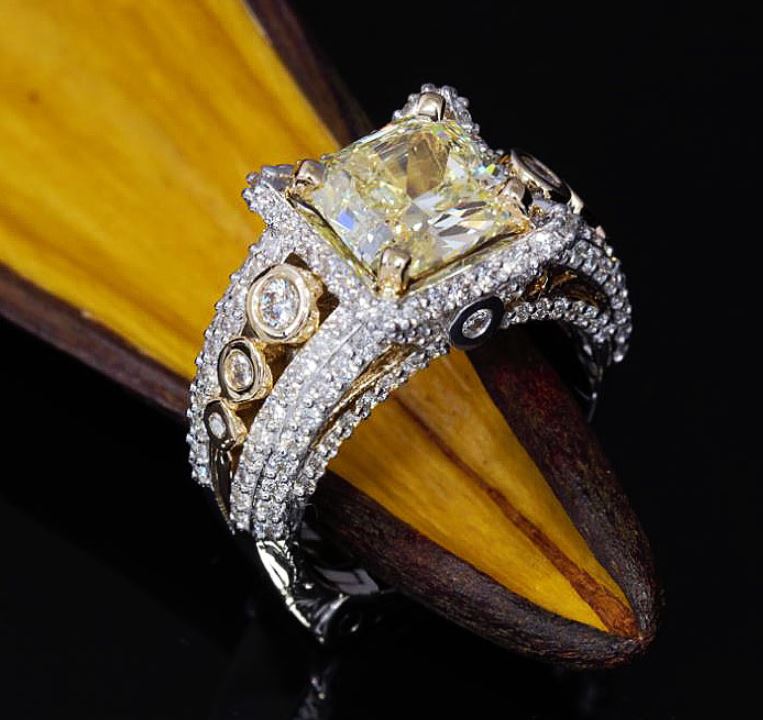 Arthritis Adapted Ring
Much to her dismay, this client hadn't been able to wear her engagement ring in over ten years. Due to arthritis she had a hard time sliding the ring onto her finger and was unable to fit it properly over her knuckle. Sizing the ring bigger was not an option because it would be too loose once at the base of her finger. Albert got to designing and recreated her engagement ring with a compatible hinge at the base of the band to make it easily slide on and off her finger and over the knuckle. When the client received her ring and tried it on for the first time she was so overwhelmed with happiness she cried tears of joy. The product of this ring became truly a heartwarming story we were overjoyed to be apart of.

7lbs to 7 carats
This couple wanted their ring to represent not only their relationship with each other, but the life of the child they shared together. Their baby was born at 7lbs and because of this, they chose to create a ring with an exquisite 5 carat center stone and two 1 carat diamonds on either side. The symbolism of the number 7 incorporated into the stones of the ring was extremely creative and something we hadn't yet seen! This ring came out both absolutely marvelous to look at and sentimental to the couple it belonged to.