July's Birthstone: Rubies
The history of July's birthstone, the ruby, is a story of riches and splendor.  This precious gemstone has been mentioned in the Bible, worn by royalty throughout history and was once believed to protect warriors in battle.  Rubies are in the corundum family, one of the hardest substances on the planet, a 9 on the Mohs hardness scale and cousin to the sapphire.  The only difference between the two is the trace element chromium, which gives the ruby its splendid red hue.  The conditions need to create rubies are so rare that a definite explanation for their creation remain elusive.
But one thing is for certain, rubies are one of the most precious and rare of all the gemstones. Consequently, rubies command the highest price per-carat of any other colored gemstone.  The per-carat price of gem quality rubies has been constantly rising, so much so, that they are breaking records at auction around the globe.  Let's take a look at some of the most expensive rubies ever auctioned.
The Sunrise Ruby - Auction Price $30,335,689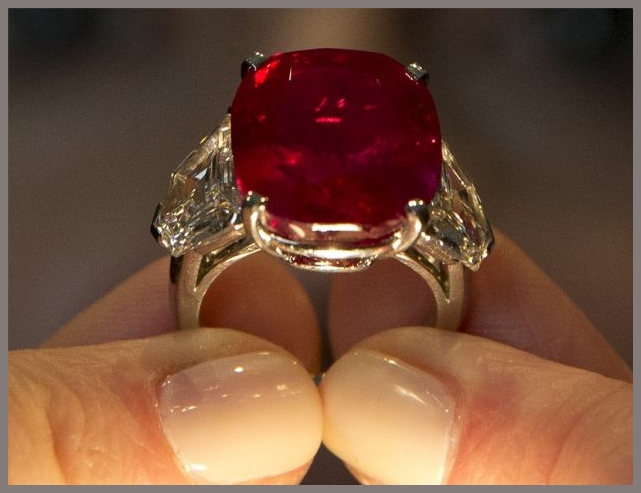 The Sunrise ruby is a 25.59 carat cushion cut, Burmese "pigeon blood" hue ruby, mounted by Cartier in platinum and set between two shield shaped diamonds that weigh in well over 2 carats each.  Expected to fetch between $12 million and $13 million at auction, however, this stunning ruby fetched over $30 million or just over $1 million a carat.  Making this the world's most expensive ruby and most expensive gemstone other than a diamond.
The Jubilee Ruby - Auction Price $14.16 million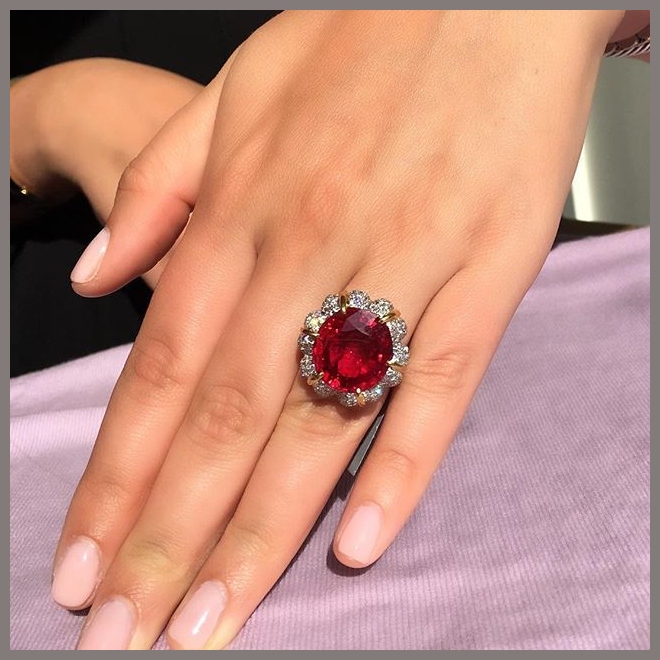 The Jubilee Ruby a 15.99 carat Burmese ruby, set in 18k gold within a circular-cut diamond and polished gold surround designed by Verdura.  This beautiful ruby fetched almost $900,000 per carat at Christie's in New York.  Making it the most expensive colored gemstone ever sold at auction in the United States.
The Graff Ruby - Auction Price $8,600,410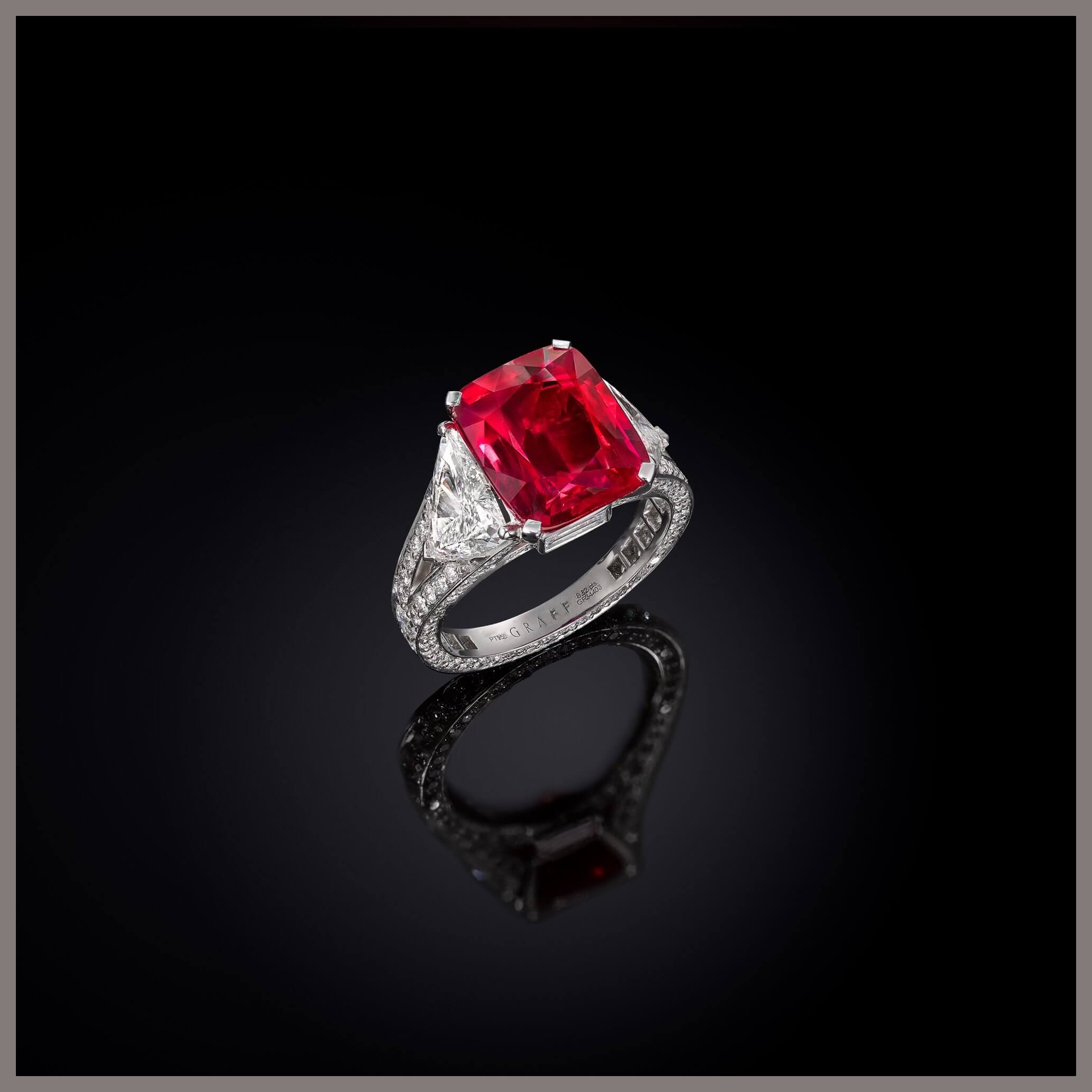 The Graff Ruby sold at auction in November of 2011 to Laurence Graff.  Graff, known as the "king of diamonds" was buying the ruby for the second time, having purchased the ruby for the first time at auction nearly eight years ago.  He had named the 8.62 carat, cushion cut Burmese "pigeon blood" hue gemstone the Graff Ruby at that time.  The price had more than doubled in just over the eight years.
Diamond and Ruby Brooch (Cartier) - Auction Price $8,428,127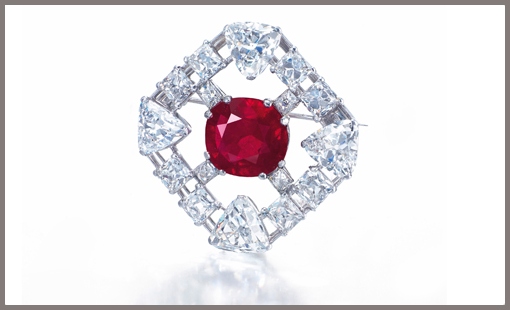 At a November 2014 auction held by Christie's in Hong Kong, a stunning platinum, diamond and ruby brooch sold for $834,468 per carat.  The brooch contained a 10.10 carat, cushion cut Burmese, "pigeon blood" hue ruby.  The brooch also contained four triangle shaped diamonds and twelve square cut diamonds.
 A Ruby & Diamond Ring (Cartier) - Auction Price $7,379,953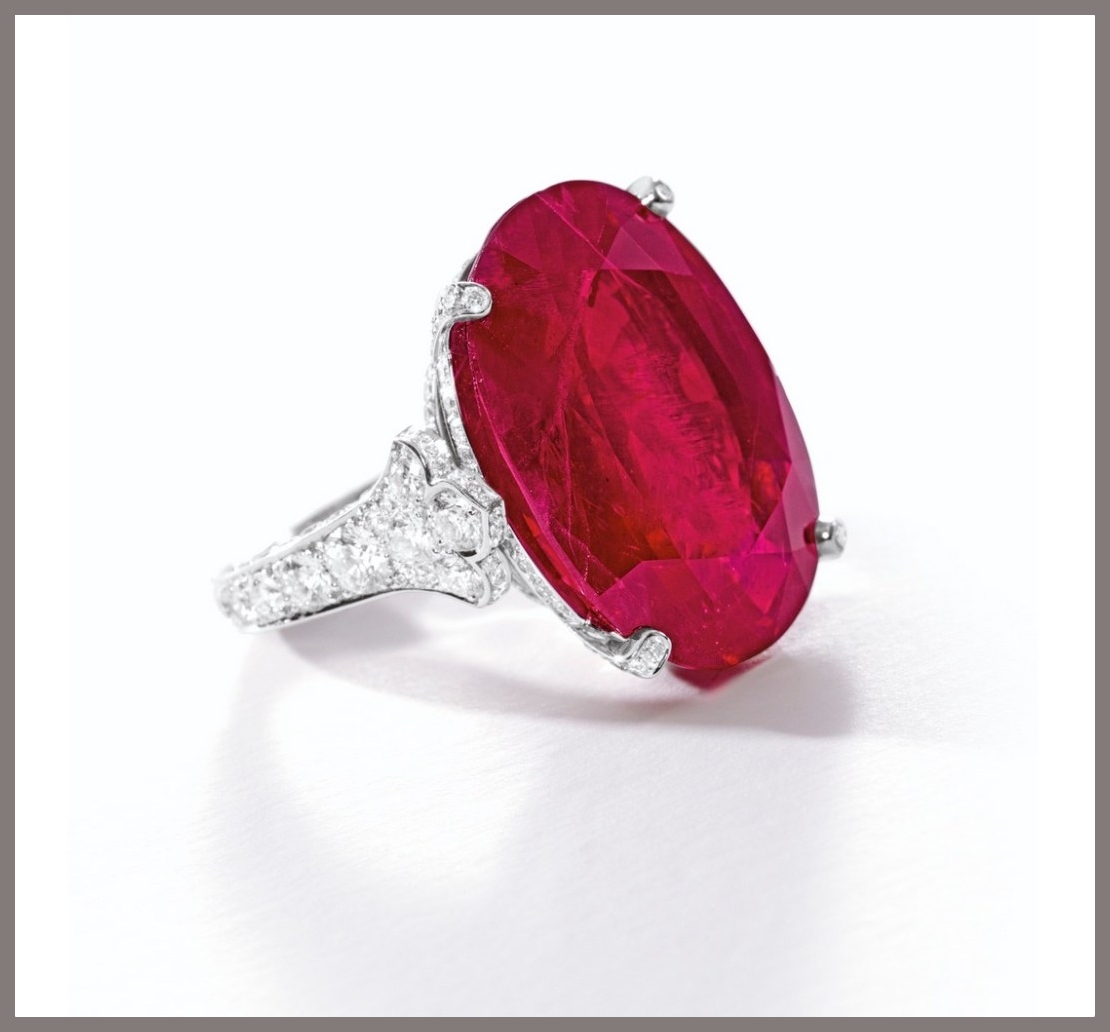 In April 2014 at Sotheby's in Hong Kong a 29.62 carat Mogok Burmese ruby and diamond ring, mounted by Cartier sold for 249,154 per carat.  This stunning oval shape ruby is set in platinum and contains approximately 2.50 carats of brilliant-cut diamonds.