May's Birthstone:  Emeralds & the Ladies Who Love Them
"Emerald's lush green has soothed souls and excited imaginations since antiquity" - GIA.  Its beautiful green color reflects new spring growth making it the perfect birthstone for the month of May.  The emerald is the most famous member of the beryl family and is cousin to Aquamarine and Morganite. The green color comes from trace amount of chromium or vanadium found in the stone.  Emeralds measure between 7.5 and 8 on the Mohs scale of hardness.  Although durable, they are prone to cracking and chipping.  Unlike diamonds, emeralds almost always have inclusions that are visible to the naked eye.  The inclusions are often referred to as jardin, which is French for garden because they look mossy or garden like.  Some very famous ladies throughout history have coveted this precious green gem, here are three of them and their stunning emeralds.
Elizabeth Taylor's Bulgari Emerald and Diamond Suite
Elizabeth Taylor is well known for her love of and collection of stunning jewels.  Perhaps her most iconic pieces were her Bulgari emerald and diamond suite. It was a gift from her legendary lover and occasional husband, Richard Burton during the filming of Cleopatra.  This was a particularly fitting gift since it is well known that Cleopatra herself loved the emerald above all other gemstones.
The Bulgari suite consisted of 6 pieces of emerald jewelry, each stunning in their own right but collectively they are a spectacular masterpiece of craftsmanship and beauty.  After Elizabeth Taylor's death, Christie's in New York auctioned off many of her famous jewels.  The Bulgari suite collectively sold for approximately $23 million!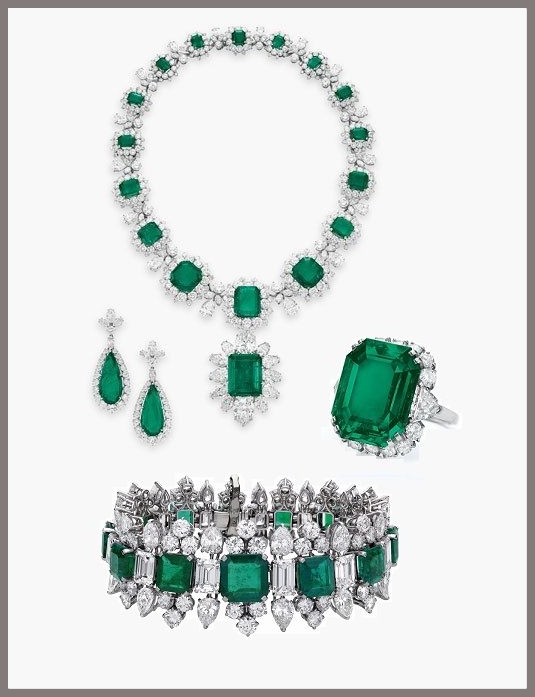 Diadem of the Duchess of Angouleme Marie Therese of France
This beautiful tiara belonged to Marie-Therese of France, the oldest and only surviving child of Louis XVI and Marie Antoinette.  Commissioned by her husband Louis-Antoine, the Duke of Angouleme, in 1819; this stunning emerald tiara took just over a year to complete.
Designed with over 1000 diamonds set in silver and 40 emeralds set in gold, the tiara is a masterpiece of French jewelry of the 19th century.  The value for the tiara is immense not only for the quantity and quality of the gemstones but because it is one of the few remaining pieces from this period of history that remains in its original state.  The tiara is now the property of and on display in The Louvre Museum.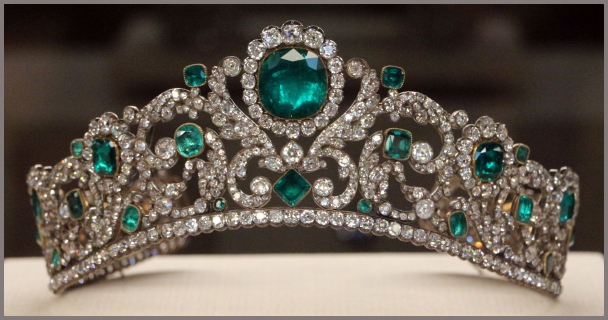 Angelina Jolie's Emerald Earrings
Hollywood stars and stunning jewelry seem to go hand in hand, particularly during Oscar night.  During the 2009 Oscars, Angelina Jolie was spotted on the red carpet wearing a gorgeous set of 115 carat teardrop emerald earrings, designed by Lorraine Schwartz and valued at $2.5 million. In addition, to her beautiful earrings she was also wearing a 65 carat emerald ring valued at over $1 million.  It makes the top ten list of most expensive jewels ever worn to the Oscars.